A global group of doctoral researchers
We are a community of over 400 doctoral and postdoctoral researchers dedicated to helping the world ethically adopt emerging technologies. AI will intersect with almost everything we do, we need researchers from many disciplines to work together to get this right!
Our members hail from nearly 50 countries representing numerous higher education institutes, and a diversity of disciplines. Each member has their own unique approach to the ethics of AI. Collectively, we represent a wide range of knowledge and skills around the topic of AI ethics. Our group brings PhD candidates, recent doctoral graduates, and early career researchers together to share ideas and encourage each other along the journey.
Are located all over the world representing nearly 50 countries. Geographic regions of our members include Africa, Australia-Pacific, Asia and Southeast Asia, India, Europe, Middle East, South America, and North America. Members come from Law, Computer Science, Philosophy, Sociology, Mathematics, Engineering, Medicine & Health, Economics, and Linguistics.
One of our core functions is events around AI Ethics.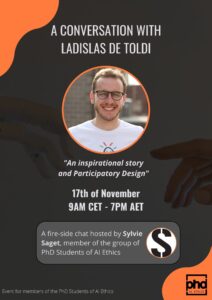 November 17th of 2022 at 09.00am Eastern Time – 07.00pm Sydney Time.
Read More »